Simple VPLS Configuration | LDP Signaling | Cisco | Service Provider
Quick Links: Video Guide Sample Configuration Topology
In this video I will walk you through configuring a very simple VPLS lab using 3 provider routers and 3 customer edge routers.
Video Guide
*** This video does not demonstrate how to set up LDP neighbors or OSPF for reachability of the loopbacks on the provider routers. I have already pre-configured this so that the main focus of the video would be on the mechanisms that make VPLS work. You will need to have OSPF (or the protocol of your choosing) advertising the loopbacks of the provider routers, as well as LDP neighbors between the provider routers before proceeding. To get you up to speed on what has already been configured, here is a sample configuration for MPLS/LDP and OSPF on CSR-1. ***
Sample Configuration
Sample MPLS/LDP/OSPF Config (CSR-1):
router ospf 1
router-id 1.1.1.1
mpls ldp autoconfig

int lo0
ip address 1.1.1.1 255.255.255.255
ip ospf 1 area 0

int gi1
ip address 172.16.1.1 255.255.255.252
ip ospf 1 area 0

int gi4
ip address 172.16.1.5 255.255.255.252
ip ospf 1 area 0
Topology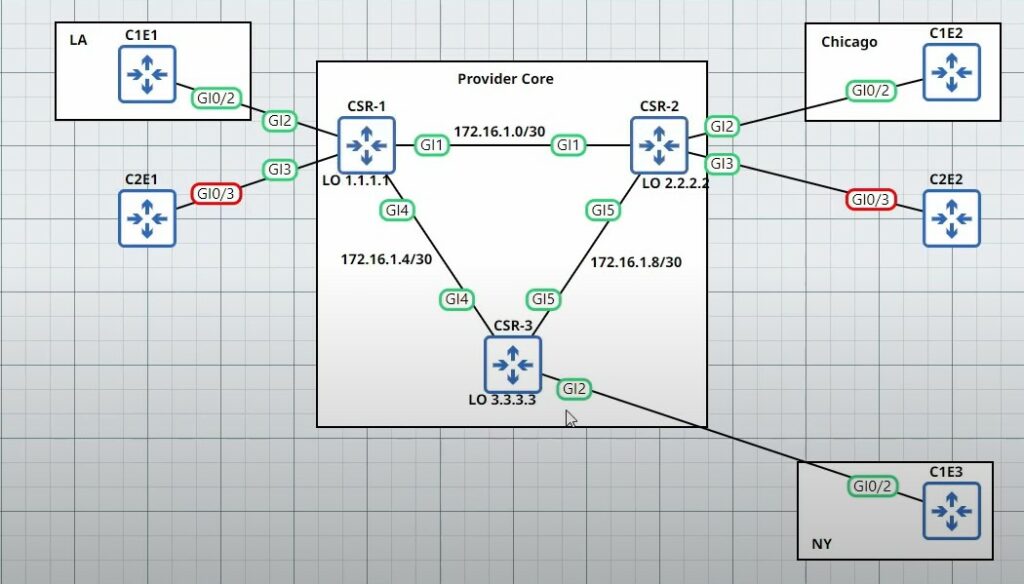 Did you find this page helpful?
PID: 20221212-00001